Fullerton College believes that in order to accomplish its goal of nurturing the future generation of leaders, we need to make sure they have a healthy planet in which to lead. So the college does everything it can to be good stewards of the environment. You can learn about the college's efforts on this site.
Courses
Fullerton College offers courses that incorporate sustainability, such as Global Environmental Problems, Climate Science and Environmental Biology.
Student Life
A number of student organizations and organized activities dedicated to environmental stewardship call Fullerton College home. These include the Students for Environmental Sustainability Club, the annual Earth Day Symposium and attendance at the CA Higher Ed Sustainability Conference.
Governance
Two bodies in the college's shared governance system are dedicated to promoting sustainability. They are the Sustainability Committee and the Associated Student Committee on Environmental Sustainability.
Innovations
The college is constantly looking for new, innovative ways to be more sustainable. Some of these innovations include the Buzzy Bites program.
Building Design & Construction
Building construction and renovation is executed with sustainability in mind at Fullerton College. The district's design standards for new building construction must exceed Title 24 energy standards by 15 percent and 10 percent for modernization of existing buildings. New construction and major renovations and modernization participate in the utility provider's Savings by Design incentive program.
Energy Consumption
Fullerton College retrofitted or replaced over 6,427 bulbs and fixtures with LED lights. Proposition 39 projects have resulted in an estimated reduction of over one million kWh of energy use annually. 
Waste Minimization and Diversion
Fullerton College minimizes waste or diverts it from the landfills at every opportunity. In 2019, it diverted:
29.9 tons of paper and cardboard
4.4 tons of electronic waste
 400,000 single use plastic bottles saved with water bottle filling stations
Water Use
Over 36,000 square feet of traditional landscaping has been replaced with drought tolerant plants, along with a new drip irrigation system to reduce the amount of water used.
Janitorial Purchasing
Fullerton College used a premixing and dispensing system to prepare its cleaning chemicals which eliminates mixing chemicals by hand, reducing the amount of chemicals used due to improper dilution ratios. With the exception of the disinfectant, all chemicals either have the UL Eco Logo, which certify the product has a reduced environmental impact, or they have the Green Seal which certifies the product has tangible reductions in the whole environmental footprint.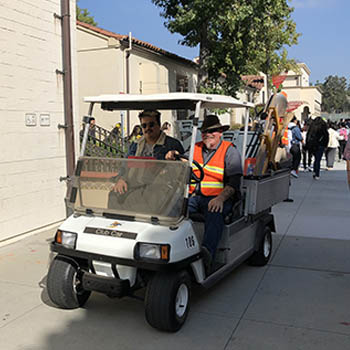 Campus Vehicles
Fullerton College staff members use light-duty electric carts for maintenance vehicles on the grounds and the HVAC shops.
Governance
Two bodies in the college's shared governance system are dedicated to promoting sustainability. They are the Sustainability Committee and the Associated Student Committee on Environmental Sustainability.
STARS
The Sustainability Tracking, Assessment & Rating System (STARS) is a transparent, self-reporting framework for colleges and universities to measure their sustainability performance. STARS measures a college's performance by the factors below.
Academics
Academic courses
Learning outcomes
Undergraduate program (degrees & certificates)
Immersive experience
Sustainability literacy assessment
Incentives for developing courses
Campus as a living laboratory
Research & scholarship
Support for sustainability research
Open access to research
Engagement
Student educators program
Student orientation
Student life
Outreach materials and publications
Outreach campaign
Assessing sustainability culture
Employee educators program
Employee orientation
Staff professional development and training
Community partnerships
Inter-campus collaboration
Continuing education
Community service
Participation in public policy
Operations
Emissions inventory & disclosure
Greenhouse gas emissions
Building design & construction
Building operations & maintenance
Building Energy consumption
Clean & renewable energy
Food & beverage purchasing
Sustainable dining
Landscape management
Biodiversity
Sustainable procurement
Electronics purchasing
Cleaning & janitorial purchasing
Office paper purchasing
Campus fleet
Commute modal split
Support for sustainable transportation
Waste minimization & diversion
Construction & demolition waste diversion
Hazardous waste management
Water use
Rainwater management
Planning & Administration
Sustainability coordination
Sustainability planning
Inclusive & participatory governance
Reporting assurance
Diversity & equity coordination
Assessing diversity & equity
Support for underrepresented groups
Affordability & access
Committee on investor responsibility
Sustainable investment
Investment disclosure
Employee compensation
Assessing employee satisfaction
Workplace health & safety
Resources
Join Fullerton College in creating a more sustainable campus by checking out these resources. You can donate to the seed center, sign up for a webinar, download guides with environmental tips and more.
Government programs
Advocacy resources